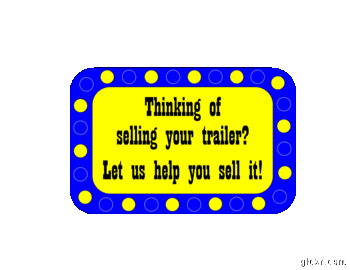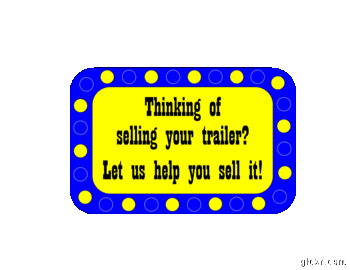 CURRENT USED INVENTORY



Click on the picture for larger view.
Click web browser back button to return here.
2008 American Spirit 8411 LQ with Slideout – Spectacular Condition!
This American Spirit 8411 LQ is great looking, lightly used, clean, loaded and priced right! It offers far too much to cover here, so… Click here to find out more about it!
2003 Hillsboro Endura 26 GN – Two 11' Boxes, Side Ramp & DR. Versatile!
Two extra long box stalls, a side ramp and dressing room make this Hillsboro Endura 26 extremely versatile. Whether you need to transport mares and foals, a team and carriage or several horses (or mules, as the trailer owner would remind us), this trailer can do (and has done) it all. Click here for more information!
1995 Kingston Belvedere 2H GN – Warmblood Stalls & XL 5' Dressing Room
Warmblood-sized stalls, a plus-sized dressing room and more. Here's your chance to own a nicely-equipped Kingston without paying a new-trailer price. Click here for the full writeup!
1996 Brenderup Baron TC with InstaTack Dressing Room
This Brenderup Baron TC is sized for horses to 18 hands, has the ingenious InstaTack dressing room and can be pulled safely by many of today's smaller SUVs and trucks. How do they do it? Magic? No. Clever, but well-proven design. Click here to find out more!
C
an't find the right used trailer? How about a NEW Calico?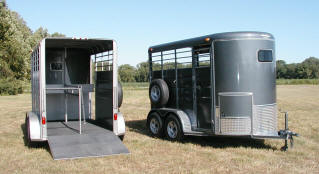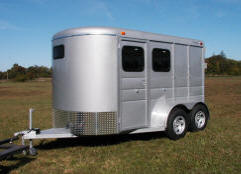 We don't usually show new trailers in our Used trailers listings, but Calicos are so affordable that if you don't find a used trailer that meets your needs, a new Calico might fit your needs and budget. We have a variety of well-equipped and affordable Calico straight loads (some warmblood-sized) & slants.
Click here to go to our Calico trailers section.
---
Private Sales
Disclaimer:
While most used trailers listed in this section are the property of Traveled Lane Trailers, Inc., we occasionally list private sale trailers. A private sale trailer is identified as such in the description of the trailer. Traveled Lane Trailers presents information on the service & maintenance history of a private sale trailer as it is provided to us by the owner of the subject trailer. We cannot guarantee the accuracy of information provided by private owners, nor do we warranty/guarantee trailers identified as "private sale."
© 2013. Traveled Lane Trailers, Inc. All rights reserved.
Web site managed by nalweb.net