CURRENT USED INVENTORY



Click on the picture for larger view.
Click web browser back button to return here.
Hillsboro Endura 26 GN – Two 11' Boxes, Side Ramp & DR. Versatile!
This Hillsboro Endura 26 is a very versatile trailer. It was built to our specifications. What we had in mind was a trailer that could carry a large carriage and one or two horses, or if there were no carriage, from two to several horses. Or a couple of mares and foals. And that's exactly how the trailer was used. Sort of. It carried mules. Sometimes, it carried several mules and other times, a large carriage and one or two mules to pull it. The trailer owner's new motor home just arrived and as you may have guessed, the motor home can't pull a gooseneck. A new bumper pull is on order and it's time for the trusty Hillsboro to go to a new owner. We're showing it as a private sale.
As the name indicates, this one is 26' feet on the floor. We specified two 11' box stalls plus a 4' dressing room. (All dimensions approximate.) Considering that 8' is a common box stall size, these 11' box stalls are huge. It's a great set-up for long-distance travel with two horses, for transporting mares and foals, or, as we mentioned earlier, for carrying a good-sized carriage and the animals that pull it. We noticed that many presentation carriages are about 10' long, so we specified 11' boxes for a little leeway. The animal area is rubber lined all around, including both sides of the center gate. This one has rear doors and a full height side ramp (that's a rare feature), so whether you prefer a step-up or ramp load, this trailer will let you do it. There's also a convenient pass door from the dressing room to the animal area. Also, please note that the center gate swings forward and back. On most trailers, the gate swings only toward the rear of the trailer. We wanted as much loading/unloading flexibility as possible, so the gate swings both ways and can be secured facing forward or rearward along the wall. There's also a wide escape door across from the side ramp.
While this is considered a stock trailer, you may note that it's much smoother looking than your typical stock trailer. In fact, it's sleeker than most horse trailers. It's by Hillsboro, a long-time builder of premium aluminum trailers, based in Hillsboro, Kansas. Rather than the typical "posts & skin" construction, their Endura series features walls of stacked aluminum tubes, bonded by extremely strong adhesive. The result is a very strong, quiet, double-walled trailer, with smooth walls inside and out. When describing the construction, we compare it to how they build a log cabin, stacking one log on top of another. We've attached a picture of a wall sample so you can get better look at the construction. Aluminum and high-tech adhesives have been used for decades to fabricate the major structures in aircraft. It's a well-proven method of construction. The Endura floor consists of extruded aluminum planks with integrated I-Beam cross members every 6 inches. It's a stout trailer, but nicely balanced and pulls well. (In case you're wondering, the high-tech adhesives are used on the wall planks, where the distributed bond of the adhesive is appropriate and desirable. Sometimes, though, a weld is the only practical way to go. On the Endura, the floor planks and key structural elements are welded in traditional fashion.)
Body width is 7' and body height is approximately 7'4". It's tall! The livestock air gaps provide great light and ventilation and there are removable Plexiglas inserts for the openings. This one has a pair of 6000 lb. torsion axles, brakes on all wheels and 16" radial tires (including spare). It has running boards to aid ingress & egress and loading lights over the side ramp and rear doors (in addition to several interior lights). Owner-added accessories include a water tank under the gooseneck (we estimate 25-30 gallons), four folding saddle racks and a hanging organizer on the dressing room door.
We invite you to stop by and see this versatile and good-looking Hillsboro Endura 26. Private Sale on display at Traveled Lane. Asking $18,000.
1984 Hartman 2H Straight Load BP – Stored inside until recently!
Apparently, to own a Hartman trailer is to love it. According to a letter in the extensive documentation package with this trailer, Hartman's parent company ran into financial difficulties many years ago and the whole works shut down, including Hartman. Too bad. Everyone we know who's owned a Hartman loved it. Why? Well, we hardly every hear mention of a Hartman without comments about the robust construction and durability. Which brings us to this trailer. A Hartman. 1984. Still solid and still looking good. (About that robust construction: Note the thickness of the stall divider and take a look at the forward stall post and roof arch. Massive.)
We think of this as a one-family trailer. A fastidious engineer purchased the trailer new, kept it until a couple of years ago and then gave it to his son. While in the father's possession, the trailer was stored indoors. The folder full of service receipts and notes supports the claim that he was meticulous about the trailer's maintenance. The trailer served the family well, but the need for tack storage recently prompted the move to a new trailer. The family is now enjoying their new trailer with spacious dressing room and we're showing their Hartman as a private sale.
As the subject line indicates, this is a 2H straight load. Quite often, trailers from the '70s and '80s are small by today's standards. We were pleasantly surprised to see that the dimensions of this Hartman are comparable to those of many trailers on the market today. By our tape, body length is 10 feet, body width is 6 feet and interior height is a touch over 7 feet. It also has two escape doors and a good complement of windows for light and ventilation. There's a spring assisted ramp and (not shown in the pictures) a removable rear curtain to close the area above the ramp. Other desirable features include radial tires and brakes on all wheels.
The trailer was repainted in 1995 and thanks to the indoor storage, the exterior looks great. The interior was not repainted and has some patina, but it also shows very well. The frame and skin of the trailer are steel, the roof is fiberglass and the ramp skin is aluminum tread plate.
We invite you stop by and check out this well kept and affordable Hartman. Asking $2500. Private sale on display at Traveled Lane.
1995 Kingston Belvedere 2H GN – Warmblood Stalls & XL 5' Dressing Room
This very nice Kingston Belvedere just came in to be displayed as a private sale. Used Kingstons are highly sought and as nice as this one is, we don't expect it to stick around for long. Not only is this one in very good condition, it's equipped with several useful options, which we'll describe shortly. The owner's horse has retired from showing, so rather than let the trailer sit, she decided it was time for someone else to enjoy all this trailer has to offer. This extended Belvedere has a warmblood-length horse area (approximately 11 feet) and an extra long dressing room (5 feet rather than the more common 4 feet). Body height is approximately 7'5", so it has the height for large horses.
As you can see, this Kingston has plenty of windows for light and ventilation. There's a lockable escape door on each side and a running board near each for convenient entry and exit. For ease of loading, the ramp has a spring assist. Per Kingston standard practice, the lift assist is adjustable. This trailer is equipped with the rare half divider with removable stud divider panel. You can configure it as a full divider (as shown here) or remove the lower panel and use it as a half divider. For the comfort and safety of your horses, Kingston equips their trailers with generously-sized wall and divider pads. The ones in this trailer are in nearly perfect condition. This trailer is also equipped with the optional head divider, which can be seen stowed in the dressing room. Another useful feature is the optional feeders (hanging on the front wall). And if you look closely, you'll see a couple of extra wheel covers in those feeders.
At 5 feet, the dressing room is 25 percent roomier than the typical 4 footer. There are 3 saddle racks, bridle hooks, a clothes rod, several windows and a roof vent. There's a folding step for convenient access to the upper gooseneck area and the dressing room door is lockable. As mentioned earlier, this trailer is equipped with the optional head divider. That's it leaning against the gooseneck bulkhead. (And please note - the tan color on the head divider is not rust. That's the reflection of the wall paneling.)
This Belvedere features an aluminum skin over a steel frame. Kingston employs many corrosion-fighting measures and it shows in the solid condition of this trailer. This one has smooth-riding torsion axles as on current Kingstons and the radial tires (including spare) look almost as new. The owner reports that the running gear (brakes and bearings) were serviced in the past year. There's a frame underneath the gooseneck that once held a water tank, so if you'd like to have a water tank, part of the work's already done (assuming you find a tank that fits the spot).
Kingston makes a limited number of high quality trailers per year. Used ones don't often come on the market and we've found they usually sell fast. We invite you to stop by and check out this very clean extended length Kingston Belvedere. Private Sale on display at Traveled Lane. Asking $8500.
1995 Brenderup Baron TC with InstaTack Dressing Room
Here's a 1995 Brenderup Baron TC. Thanks to light weight, light tongue weight and an aerodynamic shape, a Brenderup can be towed safely by many of today's popular mid-sized SUVs and trucks. Brenderup trailers have been running the roads of the world since the early 1950s, so the design is well proven. The Baron is designed for horses to 18 hands and this TC model has the clever InstaTack dressing room. This is a private sale trailer on display at our dealership. This Baron did its job well, but now the owners need to carry 3 horses and that's one thing a two horse trailer can't do.
Brenderups were developed in Europe, where large tow vehicles are a rare luxury. Over there, most folks tow with their fuel-efficient everyday vehicles. To ensure safe towing by those smaller vehicles, European trailer manufacturers keep the weight down and balance the trailer to reduce the tongue weight. Less tongue weight helps keep the vehicle level for better steering control. (The chassis has some stability-enhancing enhancing features as well, but we won't bore you with the details.)
The empty weight of the Baron is listed as 2150 lbs., one benefit of Brenderup's unitized construction. The walls, roof and chassis all work together to create a 3-dimensional structure that's light, yet strong. The Baron TC is designed so that, when carrying horses, the loaded tongue weight will not exceed 250 lbs. For comparison, a domestic 2H with dressing room typically carries about 600-900 lbs. on the hitch. (Remember, the Baron TC has the InstaTack; it's a dressing room trailer.)
As mentioned earlier, the Baron is designed for horses to 18 hands. Body length is about 12 feet and height is a generous 7'4". The ramp is taller than most at 5 feet and has toeholds for safe loading. A pair of gas springs at the base of the ramp keeps the lift effort manageable. At the top of the ramp, there's a storm panel. You can run with the storm panel up or down (although most folks leave it down for additional light and ventilation). In the horse area, the Baron comes with a pair of groom doors as standard, a huge front window and a 5-way opening window near each horse's head. This Baron has 3 butt bar positions so you can shorten the stall for smaller horses. The trailer is equipped with a removable feeder, which can be seen in some of the pictures. (Please note that this trailer was originally offered with the optional head divider, which is visible in some pictures. The head divider has been removed and is no longer being offered with the trailer.)
Now for a few more words about the InstaTack. The InstaTack is Brenderup's patented convertible dressing room. During travel, the tack compartment lid is down, allowing light to stream in through the large front window and giving the horses plenty of stretch out room for head & neck. When you reach your destination, flip the lid to the vertical position and you have a standing height dressing room. That's the InstaTack. The Baron comes with 2 saddle racks as standard. This trailer has had a second set added, for a total of 4. Better yet, one of those racks is a contoured Saddle Boss rack. Bridle hooks and a blanket bar are standard and please note, the InstaTack has a door on each side for easy access!
One reason why Brenderups tend to last so long is because of the long-lasting materials of which they're built. The Baron's rugged steel frame is galvanized for corrosion protection, the roof is durable fiberglass and the walls are tough Solid Phenolic Core (SPC) panels. This trailer received a new Brenderup original equipment floor in 2010.
This Baron has smooth-riding torsion axles and radial tires. It also has Brenderup's signature Inertia brakes. As you slow your vehicle, Inertia brakes apply braking force automatically in proportion to the load in the trailer. No need to adjust a brake controller. In fact, with Inertia brakes (which are mechanical rather than electric brakes), no brake controller is required!
The trailer comes with a Brenderup-logo spare tire cover (not shown in photos) and two coupler locks.
We invite you to stop by and see this easy-pulling and well-equipped Brenderup Baron TC. Private Sale on display at Traveled Lane. Asking $3950.
C
an't find the right used trailer? How about a NEW Calico?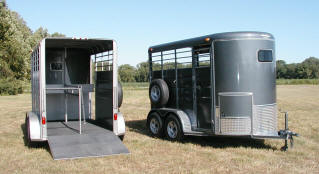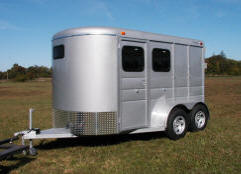 We don't usually show new trailers in our Used trailers listings, but Calicos are so affordable that if you don't find a used trailer that meets your needs, a new Calico might fit your needs and budget. We have a variety of well-equipped and affordable Calico straight loads (some warmblood-sized) & slants.
Click here to go to our Calico trailers section.
---
Private Sales
Disclaimer:
While most used trailers listed in this section are the property of Traveled Lane Trailers, Inc., we occasionally list private sale trailers. A private sale trailer is identified as such in the description of the trailer. Traveled Lane Trailers presents information on the service & maintenance history of a private sale trailer as it is provided to us by the owner of the subject trailer. We cannot guarantee the accuracy of information provided by private owners, nor do we warranty/guarantee trailers identified as "private sale."