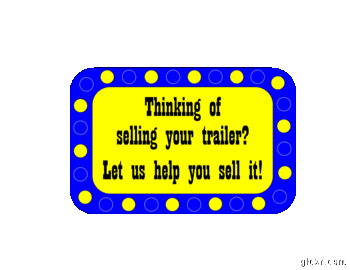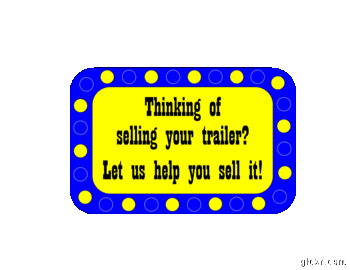 CURRENT USED INVENTORY



Click on the picture for larger view.
Click web browser back button to return here.
Brenderup Apollo - Front-Unload Convenience and No Truck Required!
If you have a horse that doesn't like to back off the trailer or if you just like the idea of being able to walk your horses out the front of the trailer, you need to check out this Brenderup Apollo. And since it's a Brenderup, you don't need a truck to pull it! Click here to learn more about this versatile and hard-to-find trailer.
2005 Brenderup Baron TC with InstaTack Dressing Room
Here's an extremely clean Brenderup Baron TC. You don't need a truck to pull a Brenderup and this one has the clever InstaTack dressing room!
Click here to learn more!
2004 Brenderup Baron One TC – 1H with InstaTack Dressing Room
It's a one horse trailer. It's a Brenderup, so you don't need a truck to pull it. And it has the ingenious InstaTack dressing room.
Click here and read all about it.
2008 American Spirit 8411 LQ with Slideout – Spectacular Condition!
This American Spirit 8411 LQ is great looking, lightly used, clean, loaded and priced right! It offers far too much to cover here, so… Click here to find out more about it!
C
an't find the right used trailer? How about a NEW Calico?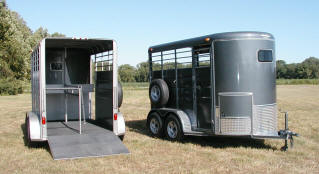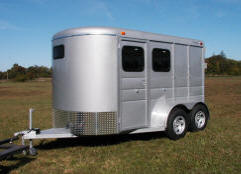 We don't usually show new trailers in our Used trailers listings, but Calicos are so affordable that if you don't find a used trailer that meets your needs, a new Calico might fit your needs and budget. We have a variety of well-equipped and affordable Calico straight loads (some warmblood-sized) & slants.
Click here to go to our Calico trailers section.
---
Private Sales
Disclaimer:
Many
used trailers listed in this section are the property of Traveled Lane Trailers, Inc., but we occasionally list private sale trailers not owned by Traveled Lane. A private sale trailer is identified as such in the description of the trailer. When service or maintenance history is mentioned in a private sale listing, it is based on information provided by the owner of the subject trailer. We cannot guarantee the accuracy of information provided by private owners, nor do we warranty/guarantee trailers identified as "private sale."
© 2013. Traveled Lane Trailers, Inc. All rights reserved.
Web site managed by nalweb.net