CURRENT USED INVENTORY



Click on the picture for larger view.
Click web browser back button to return here.
2004 Sundowner Sunlite 777 2H Straight Load with Dressing room
We've been super busy and have been pressed for time, so here's a brief introduction to this trailer: This Sundowner features a warmblood-sized horse area and large dressing room. It has an aluminum skin over steel frame and has an easy-to-lift ramp, two escape doors, all-around windows, running boards and much more. This is a private-sale trailer that we're showing for the owner. (Please note – the owner's accessories were left in the dressing room so you can see how much room it has, but the owner is keeping those items and the storage container in the right stall.) We plan to expand the text and add more pictures shortly. Asking $8900.
2003 Adam Stock Combo GN with Living Quarters
We plan to get more information online shortly, but for now, here's an introduction to this very versatile trailer: First off, it's all-aluminum (aluminum frame, skin & floor). By our tape, floor length is 24 feet, body height is 7' and body width is 6'8". Of that 24 feet, 16' is for the animals and 8' is for you in the owner-designed LQ. Part of the horse area (or in this case, mule area) is sectioned off as a tack compartment and the area is set up so you can haul a mule or horse or two and a compact carriage. There's a roomy hay rack on top with several storage containers and there's even a water tank up there so gravity can pressurize water for your water needs outside the trailer. (And we say "water needs outside the trailer" because that roof-top tank is in addition to the water system in the LQ.) The inviting white interior features a large shower, toilet, microwave, refrigerator, air conditioning, storage and much more. For your exterior comfort, there's a large awning and on the other side, there are high ties for your horses (or mules). As we said at the beginning, we plan to expand this listing shortly, but even with this brief introduction, you can see this trailer is loaded. This is a private-sale trailer we're showing for the owners and the asking price is to be determined, but don't let that stop you. Call us or stop by to check it out!
1995 Sundowner 2H Straight Load with Side Ramp
If you'd like the convenience of side-unloading in a compact trailer, this could be the trailer for you. Sundowner made some very solid trailers back in the 1990s and this one is a great example. This 1995 all-aluminum (that's right, aluminum frame) shows as well as many trailers ten years newer. It features side and rear ramps, it's lined & insulated, has plenty of windows for light and ventilation, a huge hay rack on top and much more. By our tape, floor length is a roomy but easy to handle 15 feet. Body width is 6'8" and body height is 7'6", so large horses fit comfortably. We're a bit rushed for time as we prepare this item late on a Friday, but we plan to get more information and pictures online shortly. These side ramp trailers are much sought for their versatility. This is a private-sale trailer that we're showing for the owner. It's very clean and very affordable at $9500.

C
an't find the right used trailer? How about a NEW Calico?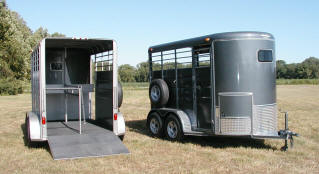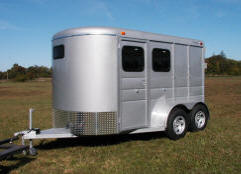 We don't usually show new trailers in our Used trailers listings, but Calicos are so affordable that if you don't find a used trailer that meets your needs, a new Calico might fit your needs and budget. We have a variety of well-equipped and affordable Calico straight loads (some warmblood-sized) & slants.
Click here to go to our Calico trailers section.
---
Private Sales
Disclaimer:
Many
used trailers listed in this section are the property of Traveled Lane Trailers, Inc., but we occasionally list private sale trailers not owned by Traveled Lane. A private sale trailer is identified as such in the description of the trailer. When service or maintenance history is mentioned in a private sale listing, it is based on information provided by the owner of the subject trailer. We cannot guarantee the accuracy of information provided by private owners, nor do we warranty/guarantee trailers identified as "private sale."