CURRENT USED INVENTORY



Click on the picture for larger view.
Click web browser back button to return here.
2013 Homesteader Stallion 2H Slant – Loaded and Shows Almost as New
This extremely clean and well-equipped Homesteader 2H Slant just came in on trade. We don't expect it to stick around for long. Click here for more information!
1998 Sundowner Custom 3H Slant – Tall & Wide with Extra Large Stalls
Here's an original-owner aluminum 3H Sundowner that has huge stalls. It's tall, too, so large horses will fit comfortably. It has lots more to offer. Click here to find out more.

2006 Double D 2ST with Tack Compartment – Very Clean!
Click here for more details!
Watch This Space
2002 Exiss SS400 ST 4H Head-to-Head with Dressing Room

We're going to do a bit more prep on this 2002 Exiss Event series SS400 ST 4H head-to-head before we officially offer it for sale, but it's such a versatile trailer that we wanted to give you a preview to let you know it will soon be available. We're very busy servicing customer trailers and we work on this one as time permits. We serviced the running gear (bearings cleaned and packed, brakes checked and adjusted). Brand new tire & wheel assemblies just arrived and will be installed soon. The coupler latch was very tight, so we're going to install a new coupler. By our tape, body width is a touch over 7 feet, height is 7'9" at the roof crown (compare to 7'6" on many trailers). Floor length is 30' with a generous 26' for the horses and 4' for the dressing room. At 5' tall, side and rear ramps are taller than most we see. Stall dividers have mesh uppers and removable lower stud panels, so you can set it up for 4 stalls head-to-head or 3 box stalls. Among the amenities in the well-equipped dressing room is a stack of 4 saddle racks (adjustable, on a removable post) and a combination water tank/saddle rack in the upper GN area. The tank/rack holds 30 gallons of water and is long enough for 2 saddles.
C
an't find the right used trailer? How about a NEW Calico?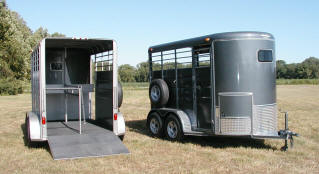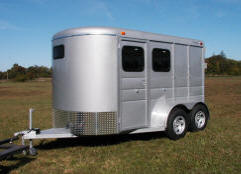 We don't usually show new trailers in our Used trailers listings, but Calicos are so affordable that if you don't find a used trailer that meets your needs, a new Calico might fit your needs and budget. We have a variety of well-equipped and affordable Calico straight loads (some warmblood-sized) & slants.
Click here to go to our Calico trailers section.
---
Private Sales
Disclaimer:
Many
used trailers listed in this section are the property of Traveled Lane Trailers, Inc., but we occasionally list private sale trailers not owned by Traveled Lane. A private sale trailer is identified as such in the description of the trailer. When service or maintenance history is mentioned in a private sale listing, it is based on information provided by the owner of the subject trailer. We cannot guarantee the accuracy of information provided by private owners, nor do we warranty/guarantee trailers identified as "private sale."