CURRENT USED INVENTORY



Click on the picture for larger view.
Click web browser back button to return here.
2000 Jamco Series 2000 3H Slant GN with Extras
This very nice 2000 Jamco 3H Slant just came in for us to display as a private sale. It was purchased a couple of years ago and the owner found that she didn't have much time to use it, so it's time for someone else to enjoy the trailer. Jamcos are premium aluminum trailers produced in Canada. This Series 2000 features Jamco's signature stacked-aluminum-tube walls (stacked like the logs in a log house) to 4' height in the horse area and structural insulated panels in the upper walls. This design is strong and quiet. In the horse area, there's a drop feed window at the head of each stall, a sliding window at the rear of each and a 2-way vent over each stall. Light and ventilation are excellent. Stalls have 40" offsets and the dividers have quick-action latches for ease in loading. There's a collapsible rear tack and the swing-out saddle rack tree may be carried back there or up in the dressing room. The dressing room is approximately 4' on the short wall and nearly 8' on the long wall. This one's equipped with a mattress for napping or overnighting and the steps to the sleeping area also double as storage. Jamco is a low-volume producer and used ones don't often come on the market. Stop by and check out this one! Private Sale on display at Traveled Lane. Asking $12,500. Click here to see more pictures.


2008 Moritz 7x14 14K GVWR Deckover Dump - Fold-down sides & 3-Mode Gate
This astonishingly clean 2008 Moritz dump trailer came in recently for us to show as a private sale. It looks so good that more than one person has mistaken it for a new trailer from 50 feet away. The owner bought it for use on his farm, but hasn't used it much. This is one of Moritz's Heavy Commercial models and as with every Moritz we've seen, it's impressively constructed and equipped. As the title indicates, this is a 7x14 with 14,000 lb. GVWR. The gooseneck hitch makes this one more comfortable to pull than a heavily-loaded bumper pull. The scissor hoist provides excellent lifting power and as you can see in the pictures, this one lifts to a high angle. When you're not hauling dirt, mulch or gravel, the sides of this deckover fold down so you can conveniently load pallets of material. The 3-mode rear gate splits to open as doors, meters and folds down like a tailgate. It's equipped with optional tarp and spare tire. Stop by and check out this versatile and robust trailer. Private Sale on display at Traveled Lane. Asking $8500. Click here to see more pictures.

2007 Trailers USA – 2H Straight Load with Saddle Racks – Extremely Clean!
This well-kept 2007 Trailers USA 2H straight load came in recently for us to show as a private sale. The current owner purchased the trailer from us in early Summer 2016. Her horse developed serious medical problems, so she decided to sell the horse and all her horsey-related assets. We had taken the trailer in trade from its original owner who maintained it so well that the trailer even got waxed periodically. It still looks great. It's a 2H straight load with saddle racks and bridle hooks up front, so it offers tack accommodation in an easy-to-handle size. By our tape, interior height is approximately 7'7" and usable stall length is about 80" (which in our experience is equivalent to a "brochure stall length" of about 87" to 90"), so large horses will fit comfortably. This trailer has aluminum skin over a steel frame. It features a spring-assisted rear ramp (with adjustable assist), two escape doors, all-around windows, 2-way roof vents and much more. Stop by and check it out! Private Sale on display at Traveled Lane. Asking $6900.

2003 Featherlite 3H Stock Combo with Camping Extras
Here's a very clean 2003 Featherlite 3H stock combo that came in recently for us to show as a private sale. It has served the original owner well as horse trailer and camper, but she's ready to move to a full living quarters, so it's time for the trusty Featherlite to go to a new home. In the horse area, the livestock air gaps offer great light and ventilation and the fast-action divider latches let you get them loaded without fuss (at least no fuss from the trailer; hopefully your horses will be equally cooperative). Up front, in addition to the expected (adjustable) saddle racks, numerous bridle hooks, blanket bar and brush tray, the dressing room has windows, a screen door, mattress with decorative quilt, 120 Volt duplex receptacle and a 2-step mounting block that also serves as steps to the bedroom. This one was built when Featherlite was an independent company. It's stoutly built and features all-aluminum construction, swing & slide rear gate, torsion axles and more. Fresh tires were mounted in 2016, so it's ready to hit the road again to take you to Fall trail rides and camping. Private Sale on display at Traveled Lane. Asking $10,500.


1989 Trail-et 3H BP – Very Clean & Affordable
This Trail-et 3H slant bumper pull came in recently for us to display as a private sale. The owner no longer needed a 3-horse trailer, so she's now pulling a new 2-horse Kingston. The subject trailer is a 1989, but it's reported that it was stored indoors for many years and it shows better than many trailers 10 years newer. It has an aluminum skin over a steel frame and has front storage and a permanent rear tack. It was based in Pennsylvania, which requires annual inspections. The current PA inspection is valid through October 2016, so the mechanicals have been checked regularly and fairly recently. Stop by and check it out! Asking $4800.
2015 Cimarron 4H Slant – Extra Tall & Extra Wide Front Stall
At 7'7" body height, this custom 2015 Cimarron 4H slant is taller than most. The 42" stalls are wider than many and the front stall is particularly wide at 51", so this trailer can accommodate larger horses than many slants . There's also a ramp on that front stall for an added measure of versatility. We just took this one in trade. It's so lightly used, still smells like a new trailer. At $21,800, you'll be getting what is essentially a new trailer for several thousand less than original price. Stop by and see for yourself!
1995 Jamco 6H Slant – Jamco Quality at a Great Price
Here's a 1995 Jamco 6H slant with rear tack. Jamco aluminum trailers feature stacked-aluminum-tube walls (we think of it as analogous to how they built kit log homes). Jamco trailers are very solidly built and feature a high level of standard equipment and excellent craftsmanship. Jamco is a low-volume producer and used ones don't often come on the market. A new version of this trailer would cost about $60,000. This one came in recently for us to show as a private sale. Asking $14,900.
C
an't find the right used trailer? How about a NEW Calico?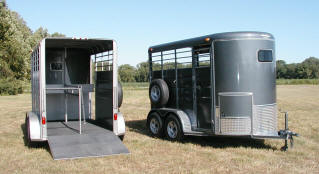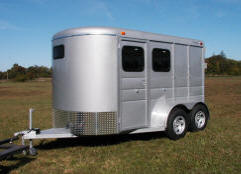 We don't usually show new trailers in our Used trailers listings, but Calicos are so affordable that if you don't find a used trailer that meets your needs, a new Calico might fit your needs and budget. We have a variety of well-equipped and affordable Calico straight loads (some warmblood-sized) & slants.
Click here to go to our Calico trailers section.
---
Private Sales
Disclaimer:
Many
used trailers listed in this section are the property of Traveled Lane Trailers, Inc., but we occasionally list private sale trailers not owned by Traveled Lane. A private sale trailer is identified as such in the description of the trailer. When service or maintenance history is mentioned in a private sale listing, it is based on information provided by the owner of the subject trailer. We cannot guarantee the accuracy of information provided by private owners, nor do we warranty/guarantee trailers identified as "private sale."